I wasn't planning on doing a review on the Naked 2 palette, but I got a couple of requests to do a comparison between the Naked 1 and 2 palettes (will be referred to as N1 and N2), so I figured I would go ahead and do that.
Please note ahead of time:
I am pale (you will see my ghostly arm in the swatch photos) with a neutral skintone. I don't really have much need for dark, dramatic makeup. I work as a substitute teacher, and going out on a Saturday night for me means going to dinner and a movie with my fiance My opinions on these palettes and my groupings of how I would use these shades hinge on those basic facts.
All swatches in this post were done without primer.
Which one will prevail and claim the title of Best Naked Palette?!
Packaging:
For me, I think the N1 palette has better packaging.
Even though the N1 palette is made of cardboard and the N2 is made of plastic, I think, in the long run, the N1 palette is going to prove to be more durable. I think the hinge on the N2 palette will eventually wear down and break apart. I plan on trying to extend its lifespan by not bending back the lid very far (it sits open nicely on its own and doesn't get in the way when being held), but I still expect it to eventually break. While less likely, I can also see the posts (not sure what else to call them) that snap the palette closed breaking off as well.
I can see these spots on the N2 palette breaking with a lot of use.
As for the outside of the case, I prefer the soft, velvety feel of the N1 case. Again, at first glance, the N2 case my appear that it will stay nice looking longer, but I don't know if that will truly be the case. I can see the metal getting scratched up somewhat easily. With my N1 palette, it collects lint and dust, but when I feel the need (which is rarely), I run a lint brush over it, and it looks almost like new again.
One of the things that I prefer about the N2 packaging is that there is a curved side to the brush well. In other UD palettes that I have, the well provided for eye liners or brushes makes them hard to get out. The curved side in the N2 palette makes sliding a brush or liner out of it easy.However, I realize that the typical cardboard packaging probably makes that impossible.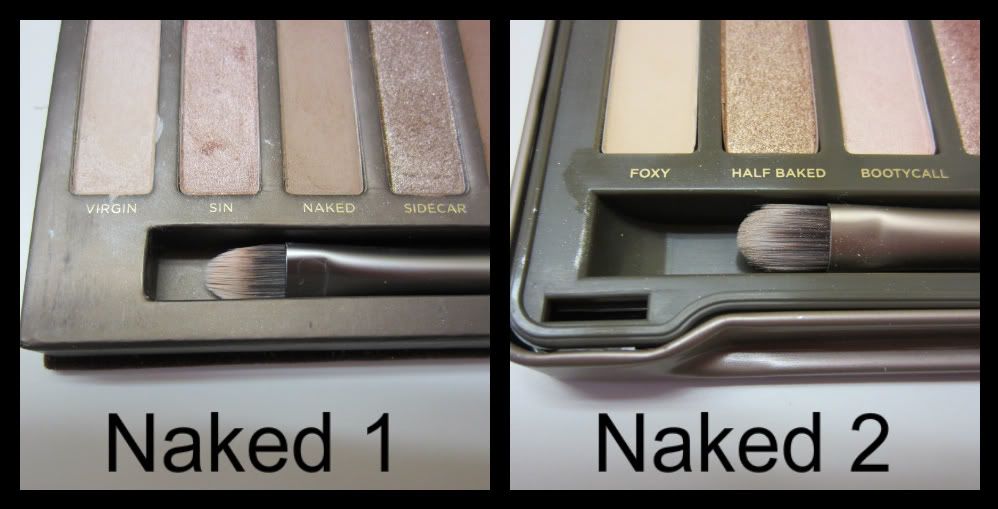 Highlight colors:
For the average person, both Naked palettes offer two potential highlight shades. N1 has Virgin and Sin, and N2 has Foxy and Bootycall. I'm so pale that Sin would be too dark for a highlight shade for me. While Bootycall has about the same depth of color as Virgin, it has enough of a peach tone to it that I'll probably use it more often as a lid shade. Even though I primarily use matte highlight colors, I prefer Virgin over Foxy. Virgin has a nice sheen to it, but it doesn't have shimmer, so it isn't over the top when using it with more shimmery shadows, especially with a matte crease shade. The yellow tone of Foxy doesn't work for me. It is too dark and it just isn't flattering on my browbone.
From left to right: Foxy, Bootycall, Virgin, Sin
N1 wins again.
Matte Shades:
From left to right: Naked, Buck, Foxy, Tease, Blackout
Working off numbers alone, N2 would win with three matte shades versus two in the N1 palette. However, when I look at the individual shades, N1 pulls out ahead again. I love Naked and Buck. I use them all the time. They are actually the shades that proved to me that I could wear a crease color and made me like matte shades.
In N2, I've already addressed Foxy. I don't like it. If they had something a bit more neutral for that shade, I would be a very happy camper. I like Tease. While it is a cool-toned brown that seems to have a bit of a plum undertone, it seems to have a little bit of warmth, so I used it in a look the other day to help balance out having Verve all over my lid and Pistol in the outer v. I can see some people saying that this color makes it look like they have a bruise on their eye, but it works for me. As for Blackout, you can see from the swatch, it is a really nice DEEP black. For people who use a matte black regularly in the outer v, this is a great addition to the palette. I am not one of those people. More often than not, I will use this to line my eyes or on top of a cream liner, and I probably won't use it very often.
Glitter Bombs:
From left to right: Sidecar, Gunmetal (not really a glitter bomb), Chopper, YDK
N1 really only has one glitter bomb where fallout is going to be an issue, and that is Sidecar. I threw Gunmetal into this picture as well because it seemed to be the second most glittery color in the N1 palette. N2 has 2 glitter bomb shades: Chopper and YDK.
Compared with the most famous glitter bomb, Midnight Cowboy Rides Again, these really aren't that bad (confession: I haven't worn Chopper yet). I used YDK in the crease the other day, and, taking a tip from julieg713 on youtube, I used some Scotch tape to clean up the fallout. I didn't see much issue with fallout throughout the day either.I'm guessing the same trick would work for Sidecar and Chopper.
I don't really consider these a major negative of the palettes, but I'm not a big fan of glitter in eye shadows, so N1 wins again.
Lid Colors: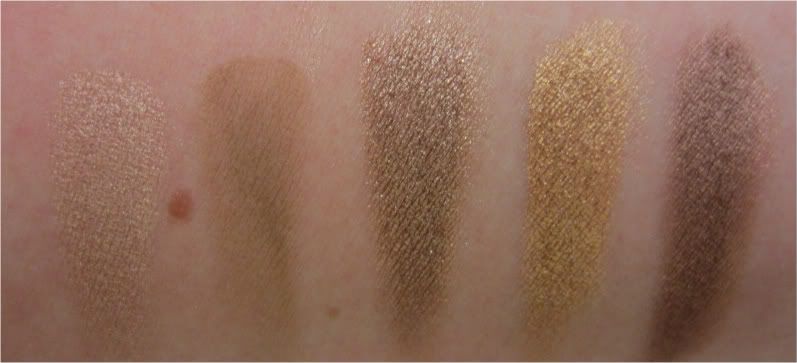 Naked 1 lid colors (from left to right): Sin, Naked, Sidecar, Half Baked, Toasted
Naked 2 lid colors (from left to right): Half Baked, Bootycall, Chopper, Suspect, Verve, YDK


Here is where N2 actually wins one for me and what drew me to the palette to begin with. Overall, the shades in N2 are a bit lighter than the shades in N1, so they will give me more options on a day-to-day basis.
Crease/Liner Shades:
Naked 1 (from left to right): Buck, Smog, Darkhorse, Hustle, Creep, Gunmetal
I apologize for the powdery look of these swatches. They really apply much better than this. I guess I was getting sloppy after taking so many swatch pictures. Sorry!
Naked 2 (from left to right): Tease, Snakebite, Pistol, Busted, Blackout


This is a tough call on which of these has better crease/liner shades, but I'm going to have to go with N1 again.
In the N1 group, I could have also included Naked in with these shades. I use it most often as a crease shade, but because of the depth of color, I put it with the lid shades instead. I don't really use Creep or Gunmetal because I don't wear colors that dark and Gunmetal is too much of a blue-toned grey for my taste. If I was going for a smoky look, the N1 palette gives me a lot of choices. I love bronze smoky eyes, so I enjoy Smog for that when I get the chance. Most of these shades would work as a liner color for me too, which is a nice option to have.
Looking at my swatch picture, I like how the N2 palette has a better variety of shades in this particular grouping. Tease and Pistol are fairly light and subtle, and Blackout is super dark. There are fewer options with these though because of that. If I wanted to line my eyes with a shadow, I could really only go with Snakebite, Busted, or Blackout.
Extras:

Naked 1
Naked 2
I'm declaring the extras a tie. I prefer the brush that I got in the N1 palette. I don't care for double-ended brushes because they are a pain to store. The flat-shader part of the N2 brush is a bit too small for laying down a lid color, and I prefer my crease brushes to have shorter bristles. The N1 brush is a nice size for applying color to the lid, and it is easy to store with my other brushes.
The N2 is better for me though with the lip gloss. I have so many primers it is ridiculous. I don't need another mini UDPP, so the gloss was a nice change.
Conclusion:
In my very humble opinion, N1 is the better overall palette. It's sort of like movie sequels, they are rarely as good as the original.
However, N2 is still a really nice palette. It gives more options for softer, everyday looks, and does lean cooler in tone than N1, so cool-toned ladies might love it more than the original. As stated in my haul post with the N2 palette, I'm glad I got it. I will enjoy using it and will be able to create some nice, pretty looks with it.
What are your thoughts on the Naked palettes? Do you have the original? Do you have or plan on getting Naked 2?