This is the last of my posts on my favorite products from 2011. There are a lot of eye products that I love, but these were the ones that stood out to me just because I reach for them so often.
Urban Decay's Naked Palette – Okay. This isn't really a shock. Nearly everyone loves this palette. It is just really easy to use while still giving a lot of look options. When I travel, I usually grab this. I doubt anyone actually needs to see a picture of it, but here it is anyway:
Urban Decay's Suspect eye shadow – I got this in the Book of Shadows volume III, and I got another one in the Rollergirl palette (which is what is pictured here). I'll be getting a third in the Naked 2 palette. I like this color enough that I'm happy with having three of it. It is a great lid color for me. It is one of those shadows that I can just throw on to add some depth and color to my lids without worrying about it being too dark. When I want to go really subtle, I'll use this as a crease color with Verve on the lid. I could also use this as a lid color with Smog or Darkhorse in the crease for a smokier look (I have to try that now). If you're fair skinned, definitely give this color a swatch if you see it. Here's my quick swatch without primer: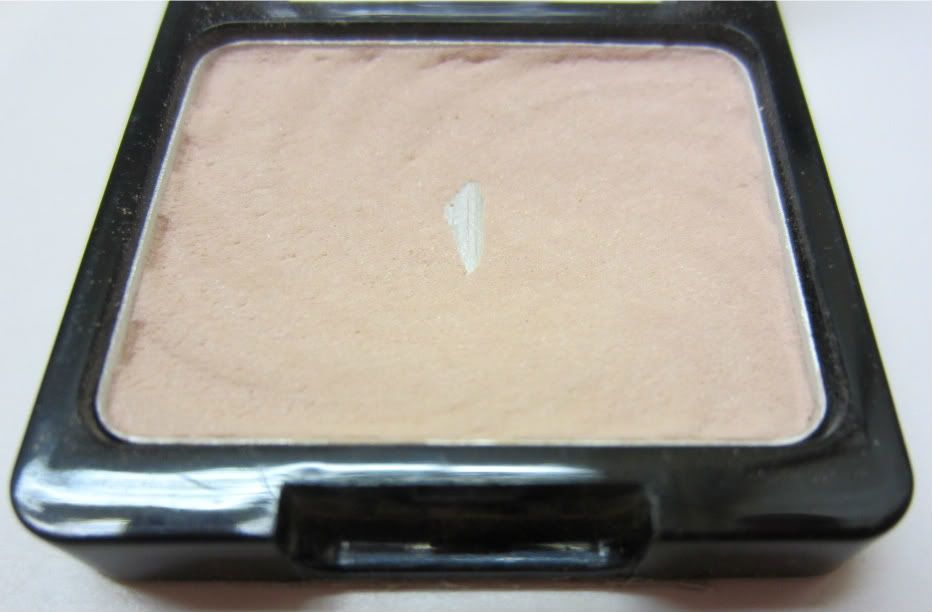 Wet & Wild Brulee eye shadow – This is the perfect highlight shade for me. I love it because it helps me blend out my crease color, which always tends to go higher than I would like. It also evens out the color of my browbone without being obvious. Looking at it closely, I can see tiny flecks of shimmer, but when applied, it looks matte, so it is great for super shimmery looks. As you can see, I've hit pan, and I bought this sometime during the spring or summer. I rarely hit pan on things, so that says something about this product.
EcoTools Blend eye shadow brush (from their 6 piece eye shadow kit) – This works really well for applying Brulee. It is fluffy enough to sort of buff on the color and help blend my crease color, but it is dense enough to lay down enough product to even out my browbone area. I use this brush every day.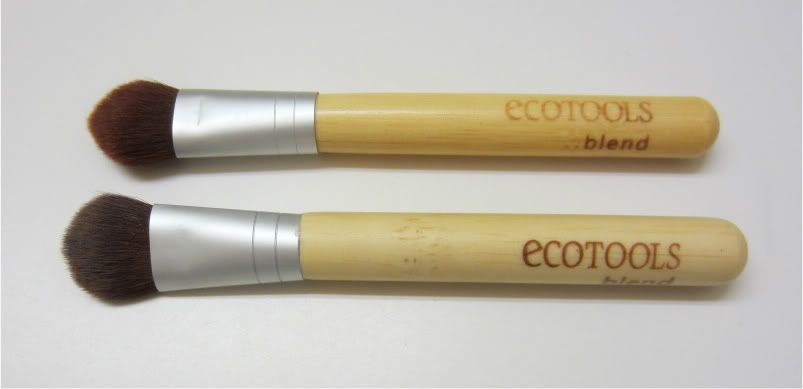 I have two of these brushes, and they are a little different. I prefer the top one because it is less flat than the one on the bottom. I feel like it blends better, but I do still use them both.
ELF Studio Contouring brush – This is the perfect crease brush for me. I typically have issues with crease colors going too high and too far out. This keeps my crease color where I want it better than other crease brushes I've tried, but it is big enough to blend out the color too. I've got four of these brushes, and I'm always tempted to buy another one when I am in a Target.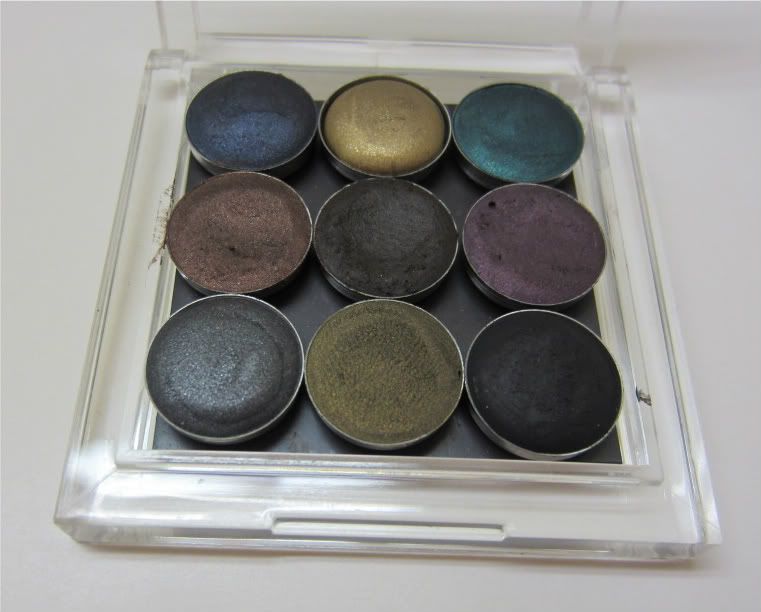 Silk Naturals Cream Eyeliner Palette
– This was released as a limited edition item in the spring, and it was rereleased for Christmas. It has 9 mini pans of SN's cream liners – Midnight (navy blue), Fort Knox (gold), Peacock (teal green), Mahogany (shimmery brown), Espresso (matte dark brown), Amethyst (purple), Tarnish (steel grey), Envy (khaki green), and Film Noir (black). I love the texture of these. They are stiffer than most cream/gel liners, so I have to swipe an angled liner brush across the top instead of dipping a brush in like you do with most cream/gel liners. I like that it is pretty much impossible to get too much product on my brush because it is so stiff. Most days, I don't bother setting this with powder (which is recommended by SN), and aside from the outer corners of my eyes, which usually fades to nothing by the end of the day, it stays put. This palette retails for $19.99, which is a great value because these liners will last you a really long time. I've barely made a dent in the two colors (the browns) that I use most often.
What eye products have you been loving over the past year? What should I try during 2012?