When I first saw that Maybelline was coming out with a product called Dream Bouncy blush, I was intrigued. I wanted to know how a blush could be described as bouncy. It didn't help that I've been addicted to cream blushes over the past several months. When I happened to run across a display for these blushes before Christmas, one of them practically leaped (or should I say bounced?) into my hand. I've since gone on to pick up three more, so I now own Fresh Pink, Plum Wine, Pink Frosting, and Rose Petal.
Top row: Fresh Pink and Plum Wine / Bottom row: Rose Petal and Pink Frosting


While these aren't bouncy in the literal sense of the word, it still seems to be a fitting word to describe these blushes. They have a fascinating (at least for me) spongy, play-doh like texture that shifts around when I lightly press down on them, but they still mostly stick within their molded, dome shape. I will admit that I've had a bit too much fun poking at these blushes and watching them shift around in the pan, which you can see from the above pictures (note to self: take pictures BEFORE you start playing with the makeup).
I have applied these with both my fingers and a stippling brush. I prefer using my fingers, but the brush worked as well. They blend into the skin easily and smoothly with very little tugging on the skin. It's a nice cream-to-powder type of formulation that doesn't feel sticky/tacky while applying or after it has been applied.
Several reviews I have come across about these blushes complain about the lack of pigmentation of these and how sheer they are. I would agree on both counts; they aren't overly pigmented, and they go on quite sheer. For me, I consider that a positive thing. I usually have to be really careful when it comes to applying blushes because they are so pigmented. With the lighter shades of these blushes that I own (Fresh Pink and Rose Petal), it is pretty much impossible for me to over-apply. It also makes it possible for me to grab for the darker colors because I know I can blend them out and make them work.
Swatches:
Top row: Fresh Pink and Rose Petal / Bottom row: Pink Frosting and Plum Wine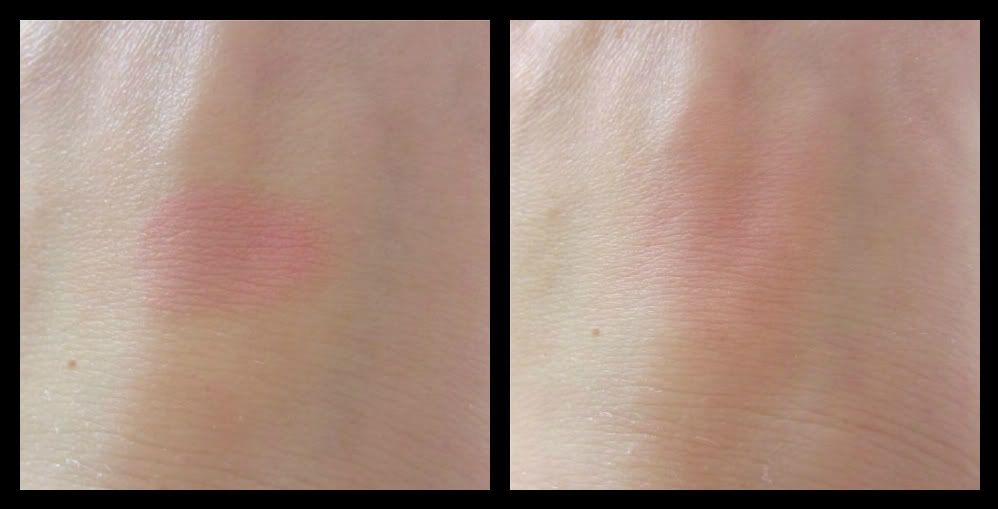 Fresh Pink: heavy swatch and blended out

Rose Petal: heavy swatch, blended out, applied more heavily and blended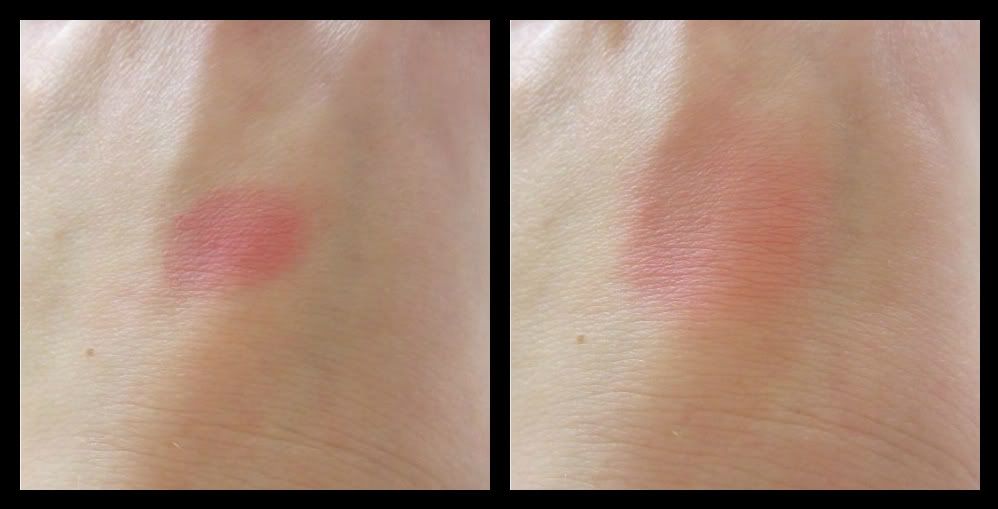 Pink Frosting: heavy swatch and blended out
Plum Wine: heavy swatch (sorry it is blurry) and blended out
These blushes have good lasting power for me. I can apply them at around 7 a.m., and when I get home at 4 p.m., they still look pretty good. From the times that I was able to check, it looked like it was around 6-7 p.m. when it had faded enough that I would have felt the need to reapply. Every time I have applied them, it has been over a face primer, foundation, and powder. Most of the time I end up applying a little bit of powder on top as well, especially with the darker shades to help blend them out. I purposely went one day without applying powder on top, and it didn't seem to affect the lasting power. I would also like to note that I didn't use any blotting papers or powder during the day to touch-up.
Although I have been enjoying these, I had a minor issue last week when I tried Rose Petal for the first time. It is such a light color that even I had to pile it on a bit to get it to show up. When I looked closely in my mirror, the product had caked into my pores. Thankfully, I grabbed a kabuki brush to blend it out, and it was no longer an issue. I haven't noticed this with any of the other colors that I own. I also haven't noticed them settling into my pores throughout the day.
Bottom line: Would I recommend these blushes? If you like cream blushes, I say it is worth giving them a try. I would suggest starting with one blush though because I have read and seen a lot of mixed reviews on these, so you might not enjoy them like I do. Consider the depth of your skintone and pick a color accordingly. When in doubt, I would suggest grabbing a darker color. Even with my fair skin, I can wear Plum Wine with just a little bit of extra blending and a light dusting of a tinted powder on top.
Have you tried these yet? How would you describe the texture? Since I'm obsessed with cream blushes, what other ones should I add to my wishlist?