I am constantly battling with dark under eye circles. Being fair, they tend to make me look like a zombie. Think I'm exaggerating?
Here's my eye area without makeup: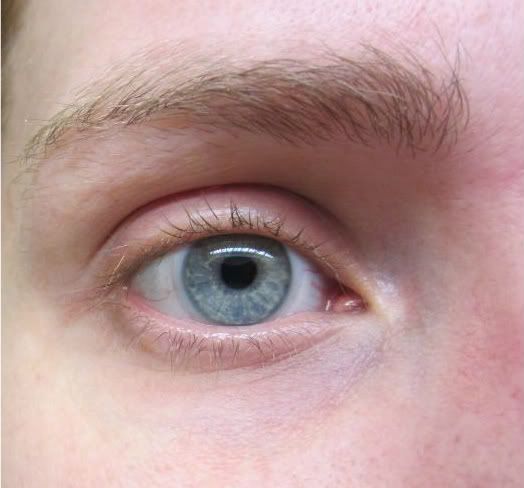 Zombie eye - Eeek!!!
Okay...maybe not quite a zombie, but I swear they are darker in real life.
I have been testing out the Maybelline Dream Lumi Touch Highlighting Concealer in Radiant to see if it can keep me from looking like I want to eat brains for lunch.
Swatches:
Heavy swatch on the right; Blended out on the left
Aside from offering Radiant, which is their peach correcting shade, this line also has 5 other shades that are more flesh toned. The name of this product implies that there might be shimmer in it, but, thankfully, I can't detect any shimmer at all.
Here's the results: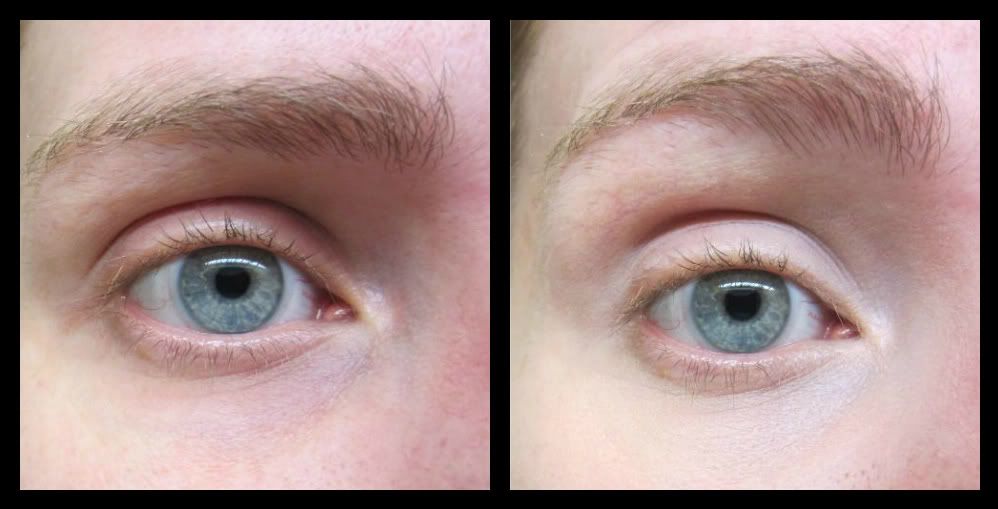 The only products I've applied here are my Revlon Photoready Perfecting Primer and the Maybelline Lumi concealer. It, of course, blends in a better around the edges once I apply foundation.
This concealer is packaged in the click up brush applicator like the one used for Stila lip glazes.
I don't particularly care for this type of packaging. I find it harder to get the correct amount of product out, and it also tends to be packaging where you get less product. This particular concealer only comes with 1.5 mL/.05 oz of product. My Hard Candy Glamoflage concealer has .71 oz, and my Maybelline Super Stay Concealer comes with .18 oz. That's a pretty big difference in size, and I think (it's been a long time since I bought the Glamoflage or Super Stay concealers), that the Lumi concealer was the most expensive of the three.
As you can see from the pictures above, this concealer has a pretty thin consistency. It doesn't have completely opaque coverage, but I think it does a decent job of covering the circles under my eyes. I do get a little bit of settling into the fine lines under my eyes, but because the formula of this product is so thin, the settling isn't really obvious like it is with a thicker, creamier product.
I also get pretty good staying-power with this concealer. I still look human when I get home from an average work day. I would want to touch up under my eyes (and a little bit everywhere else) if I was doing something else in the evening because I wouldn't trust it to last all the way through, but it would probably make it through part of the evening as well.
Overall, I like this product enough to overlook my annoyance at the packaging, and I will probably end up repurchasing it when I run out unless I happen to run across something better before then.
Do you struggle with looking like a zombie? What helps make you look human again?