On to part 2 of my series on my favorite products from 2011, which could be labeled "Tarte products and a couple of others." I became a big fan of Tarte over the past year.
On to my favorite cheek and lip products: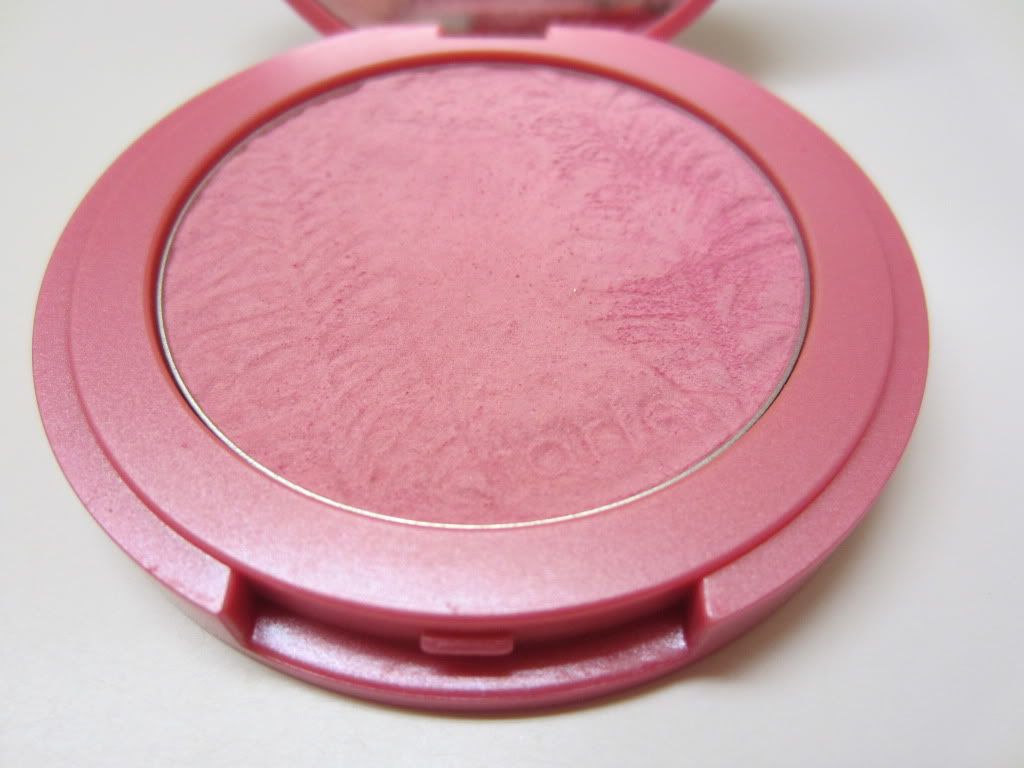 Tarte's Amazonian clay blushes – I got my first one in the spring, and I'm now up to eight of them. They have a pretty good range of colors and good staying power. I haven't paid enough attention yet to notice if they actually last 12 hours like they claim to, but I do know that they make it through a work day. My favorite of the bunch is Dollface, which is a nice, neutral pink. As you can see in the picture, the embossing of the Amazon River is nearly gone from that one.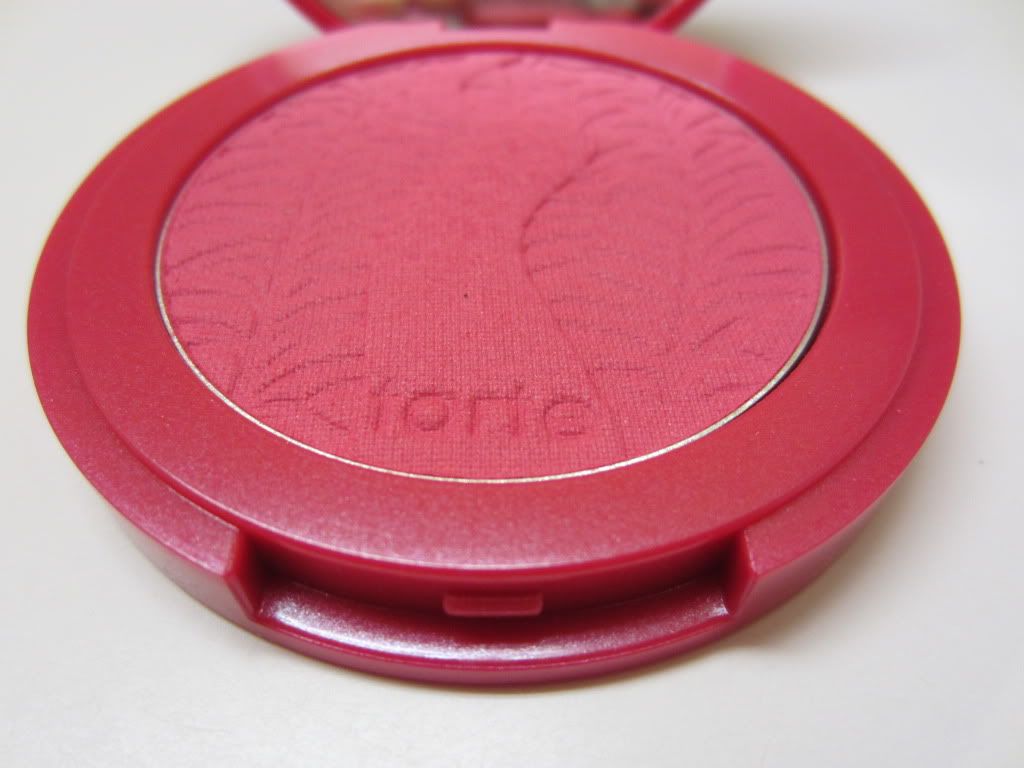 This one is called Natural Beauty, which is one of the newer ones in my collection. It looks scary in the pan, especially if you are pale like me, but using a stippling brush makes it wearable. I also use a kabuki brush after I apply blush to blend things out even more.
These blushes retail for $25, and can be bought through
Tarte
,
Sephora
,
Ulta
, and
QVC
. QVC doesn't have a very good selection of the blushes in the permanent collection of these, but they often have amazing value kits that are definitely worth a look.
Tarte's cheek stains – One of the fabulous ladies on
Mineral MakeupForums
(aka: Chanty's forum) generously sent me two Tarte cheek stains over the summer, and I fell in love. I've picked up several more since then. Aside from the fact that they are great cheek colors, I enjoy the fact that they smell like lemonade. Tip: I don't like applying them with my fingers. They feel really hard to blend. However, using a duofiber brush works really well for me. I get a light application and the brush helps them blend a lot more smoothly.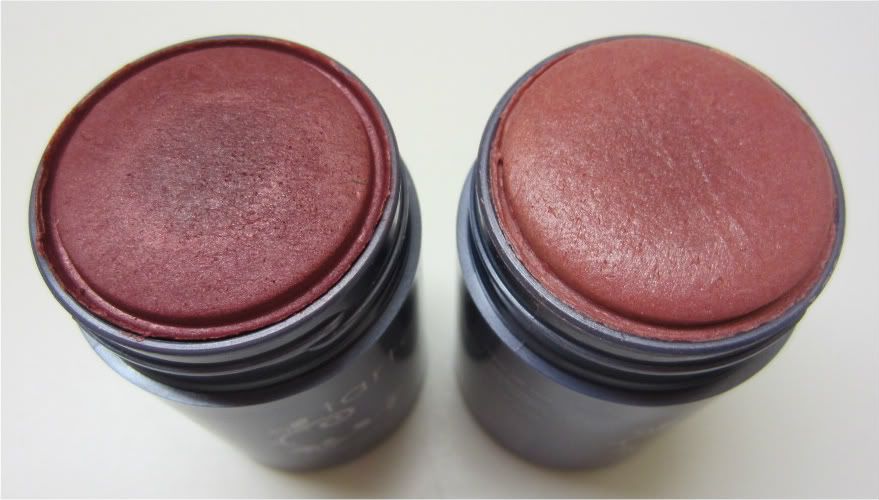 Pictured on the left is The Perfect Berry and on the right is The Perfect Rose. The Perfect Berry was part of a value set on QVC that no longer appears to be available. I got mine off of ebay. The Perfect Rose is available
here
on QVC. The regular line of colors can be found at the same places you can buy the blushes.
Real Techniques Stippling Brush – Being really fair, most blushes are pigmented enough that I have to be careful with them. Enter the stippling/duofiber brush. I particularly love the Real Techniques one because the bristles are shorter than most stippling brushes and the brush head is just the right size for blush. It works equally well for cream and powder blushes.Other nice details are the pink handle the the flat rubberized bottom. The flat bottom isn't so large that it takes up a ton of room when stored with other bruhes, but it also allows you to stand it up on its own. These brushes are currently only sold at
Ulta
.
Tarte's Lipsurgence lip products – I'm not a lipstick girl. I'm just now getting into wearing colored lip glosses. For years I've pretty much only used a lip balm. For someone like that, these are great. They give a decent amount of color while still being a bit on the sheer side. They feel a lot like a balm instead of a heavy lipstick. The color lasts pretty well (I'm awful about reapplying) and wears off evenly. I also like that they have a few different finishes: luster, lip tint, and matte lip tint. I haven't tried any of the matte ones yet, but I enjoy both the lusters and the lip tints.
Perky was part of a Christmas set that is still available
here
on QVC. It is a great deal! You get 5 of these Lipsurgence lip products for $29, when the ones is the regular line retail for $25. Talk about value.
Enchanted and Pouty are both part of the regular line and can be purchased at the same places as their cheek products.

Lip balms – I am a lip balm junkie. I have been for years, and years, and years. Leaving the house without a lip balm in my pocket is a tragedy. I don't have a HG lip balm brand because I go through phases with different brands and formulations. One week, I will be loving a particular balm, and the next week, I'm not liking it at all. Sometimes I enjoy a thicker formula. Other times I want something a bit thinner. During the summer months in particular, I want to grab something with an SPF.Here's a picture of a few of my favorites: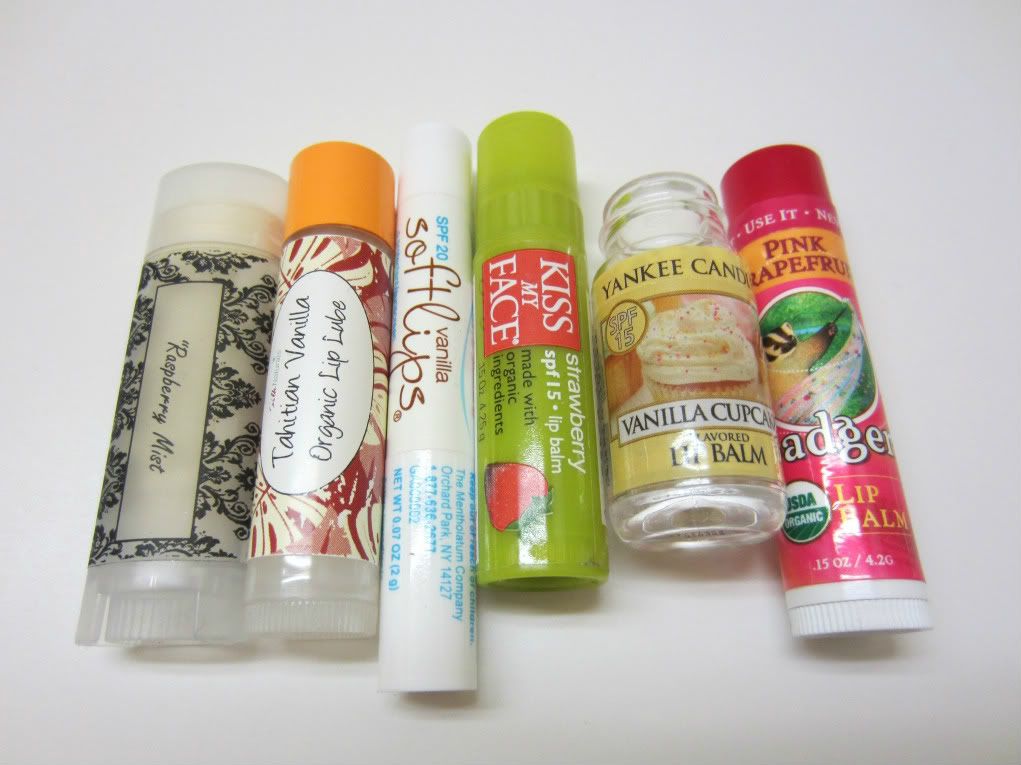 What were your favorite cheek and lips products for the year? Do you have a standout brand that dominates your favorites like Tarte dominates mine?