I figured doing a few posts of some of my favorite products from 2011 would be a good way to start things out. I have three posts planned: this one, cheeks and lips, and eyes. I maybe could have done another post for brushes, but I decided to include them with the specific category where they are used (face, cheeks, or eyes).
Liquid foundations/tinted moisturizers – I wore mineral foundation for about two years straight. Although I liked it, I was having issues with the powder pooling on different areas around my face. Not attractive. I usually have a hard time with foundations being too dark, but starting this summer, I have picked up several liquid face products that work for me. I have enjoyed using them, but I'm still looking for a HG foundation.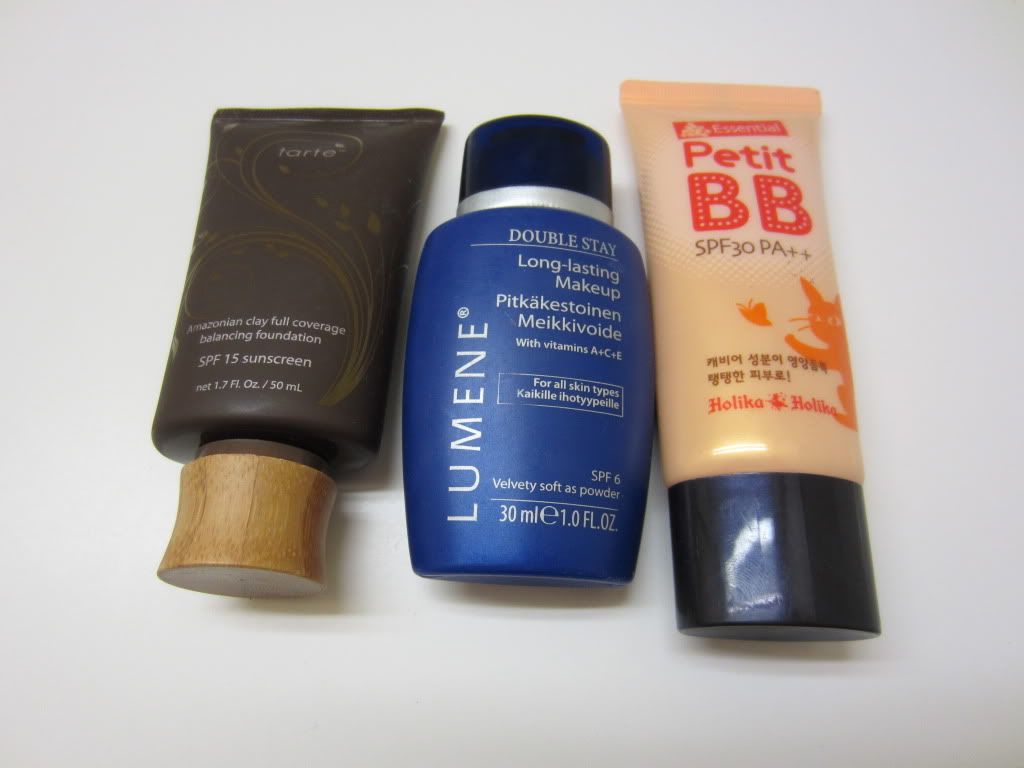 These are the three liquid face products that I use the most (from left to right): Tarte's Amazonian clay full coverage balancing foundation in Fair (currently only sold on QVC or on ebay), Lumene Double Stay Long-lasting Makeup in Vanilla Meringue (found on ebay), and Holika Holia Essential Petit BB cream (found on ebay).
Meow Pampered Puss Foundation – Once I started using liquid face products, I started using this as a setting powder. It is sheer enough that it doesn't look cakey, but it also adds the extra coverage that I need. I use Inquisitive Siamese.
Meow Concealer – I have been a big fan of mineral powder concealers for several years now. Since they don't need as much blending as liquid or cream varieties, they seem to stick better to the specific spots I want covered. Meow's concealers are great because they have a concealer that matches every foundation shade.
Both of these products can be found
here.
Silk Naturals' Sleep in a Jar Light Peach – I have dark undereye circles, and I struggle to cover them. I'm still looking for the perfect combination. So far, this is the best product I've come across. Even if I do find a creamy concealer that works well, I think I will still continue to use this. I love using it after I have applied all of my eye makeup (barring an inner corner highlight and sometimes mascara). It helps clean up smudging and adds that finishing touch that makes me look more awake.
Sleep in a Jar can be found
here.
Everyday Minerals Eye Kabuki Jr. – I love this brush for applying my Sleep in a Jar. It is a small, dense brush that just works.
This brush can be found
here.
ELF Professional Concealer Brush – Most concealer brushes seem too big to me. I love how small this one is because it allows me to get the precise application that I want, and you can't be the $1 price tag.
This brush can be bought online
here.
I wouldn't recommend buying this brush online unless you want to make a big ELF order and have a good coupon code because their shipping is a flat rate of $6.95. For the few ELF products I get, I prefer getting mine at Target.
Drugstore.com
is another place that sells ELF. There is a bit of a markup in price, but you get free shipping with a $25 order.
What were your favorite face products for 2011?