The Tarte TSV set that I ordered from QVC last week came in yesterday, and I could barely wait to test everything out. For those who missed my previous post about TSVs, you can find it
here.
Flyer included with kit. Looks much better than the picture I took of everything. :-)
This new set is supposed to air on QVC on March 16th. According to Musings of a Muse, this set is only available for preorder if you are a QVC Insider, but as far as I know, I'm not one. It looks like if you got to
QVC.com
and search for the item number (A225240), you'll be able to order it. It is selling for $59.96, and will remain that price through March 16. After that, it looks like the price will go up to $72.50.
One thing that doesn't come in this kit that usually comes in other Tarte kits is a makeup bag. I'm actually happy about that because I have too many makeup bags as it is.
Here's what you do get:
Cashmere Waterproof Eyeliner in black 0.01 oz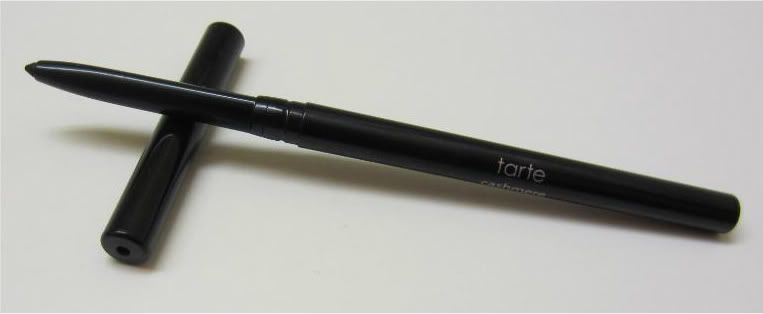 I will be curious to see the show on this TSV set because I want to see what the claims are for this eye liner (aside from the waterproof claim). I need to do more testing with it, but it seemed to smudge a bit under my eyes when I wore it yesterday. I'm also disappointed that mine seems to be defective. It is really slow to twist up, and it won't twist back down. I asked if anyone else had a problem with this on Tarte's Facebook page, and one other person responded that she had the same problem. She had contacted QVC about it, and the entire set would have to be exchanged in order to get the defective product replaced. I've thought about contacting Tarte directly, but I haven't decided if it is worth it or not.
Maracuja Divine Shine Lip Gloss in Peaceful (nude pink)0.12 fl oz

The packaging on this gloss is adorable. I love the flowers. I don't, however, love the click-pen style gloss packaging; I would prefer a wand gloss or a squeeze tube. I also don't like how large the packaging is. I can't keep it in my pocket, and I would feel a little silly pulling this out for a touch-up in front of other people because it is such a gigantic tube.
The gloss itself feels nice the couple of times I've put it on, and it isn't overly sticky. It has a mild minty flavor that isn't overwhelming. The color is really sheer (swatch coming up later in the post). I haven't paid attention to how long it lasts on my lips, so I can't report on that yet.
Envoke the Smoke Eyeshadow Quad (pink cloud, silver mist, purple fog, dark ash) 0.2 oz
From top to bottom: Pink Cloud, Silver Mist, Purple Fog, Dark Ash
Just like the lip gloss, I think Tarte did a really nice job with the packaging on this. The box just makes me smile.
Eye shadows is one area where Tarte tends to struggle, and these seem to follow that trend. These are not overly pigmented. If you really want these colors to pop, I would suggest using something like NYX jumbo pencil in milk underneath them.
I'm going to keep playing with these, and I know I'll use them, but they won't become my favorite shadows. The colors in this kit aren't ones that I would reach for regularly anyway, so I'm hoping for a neutral palette in one of the other shipments.
Maracuja Concealer in choice of fair, light, medium, tan, deep .28 oz.
I have this in the color fair, and I did a short review of it
here.
The reason I'm showing you two tubes in this picture is because the concealer in this set is a bit smaller in size than the ones in the Glow Your Way to Gorgeous sets from last year. The battered looking tube on the left is my old tube, and the one on the right is the new one. The old tube has 12g of product, and the new one has 8g. I have no problems with the decrease in size. These sets are such an incredible value, that I don't see that small of a change as a big deal. Besides, I have had my original tube and used it regularly since July, and there is still a ton left.
Lights, Cameras, Lashes Mascara .24 fl oz
I reviewed this product
here
as well. I wish they had included their new Gifted Mascara instead since they throw Lights, Cameras, Lashes in with everything.
Air Bouncy Blush in Shimmering Poppy 0.19 oz
I think this is the product that really prompted me to get this kit. I love Tarte cheek products, so I was really interested in trying a new one. This is another product that I'm curious to see them talk about on the show.
This is a really nice cream blush, but I'm not sure why they refer to it as "bouncy." It doesn't have the spongy feeling of the Maybelline Dream Bouncy blushes. I've used it twice so far, and I like it a lot. The texture isn't the slightest bit tacky (like the cheek stains are). It blends like a dream, and it lasts well throughout the day. I'm looking forward to getting the other two of these in the upcoming sets.
Blush brush
I was really excited when I realized that this was a duo-fiber brush. I used duo-fiber brushes to apply my blush all the time, so this is really handy, and it is the only one I have with a domed shape. I've washed this and used it twice, and I had about 2-3 of the black hairs shed, but I don't expect shedding to be an on-going issue. The handle is a really nice length. It is shorter than most standard face brushes, but it is still long enough to fit comfortably in my hand.
Pure Maracuja Oil 1.7 fl.oz
In hindsight, I should have taken this picture with something else in it to show scale. This bottle is HUGE. It is 1.7 oz, and if you consider most liquid foundations around 1 oz, it'll give you an idea how big this bottle is.
I started using a mini bottle of this that I already had since I knew I would be getting a full size. I apply a few drops to my face right after I shower while my face is still damp. Later, I go back and do the rest of my night skincare routine (eye cream, zit cream, moisturizer). This might seem like an odd order, but I don't want to wet my face down to apply this after I have applied benzoyl peroxide to my face. I haven't noticed any major changes in my skin so far, but it hasn't broken me out, which is a positive. I'll probably try this on my hair at some point too since this will take me forever to get through if I only ever use a few drops every day.
Swatches: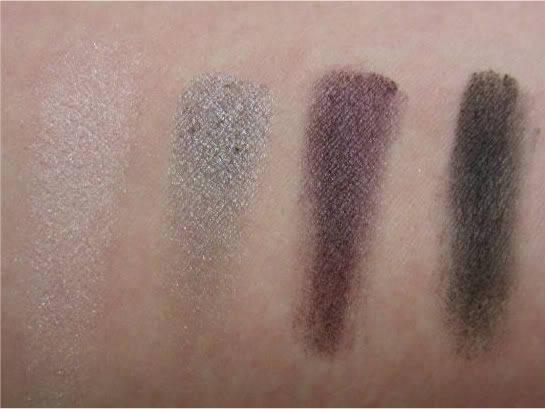 Pink Cloud, Silver Mist, Purple Fog, Dark Ash
Peaceful lip gloss, Shimmering Poppy blush, Black liner
Bonus items:

There were two bonus items included with this set: a mini Smooth Operator Amazonian Clay eye base and a mini Brazilliance skin rejuvenating maracuja self tanner. I know the eye primer has been available before (even though I don't see it available anywhere at the moment), but the Brazilliance is a brand new, unreleased product. I haven't tried either of these yet.
Final Thoughts
Right now, the standout products for me in this set are the blush and the blush brush. Like other Tarte kits on QVC, it is a great way to try a bunch of Tarte products for a really good price.
What do you think of this set? Will you be picking it up?