My third shipment from the Glow Your Way to Gorgeous Auto-Delivery plan from QVC arrived in the mail today, and like the good beauty blogger I'm trying to be, I patiently waited until I could take pictures before swatching anything.
If you aren't familiar with QVC, they have what they call their TSV, Today's Special Value. Quite often with beauty brands like Tarte, the TSV includes an auto-delivery option where you can opt to get three shipments that include different colors in the same product types. The unfortunate thing is that if you miss the original set, you can't sign up for the second or third (unless they have extras that they put up for sale later, which I have seen with a few sets). For example, the original Glow Your Way to Gorgeous set was available at the beginning of July. The second shipment went out in October, and the third was just sent.
I know that it might sound a bit contradictory to list this blog post as both a first impressions and a review post, but since I've had these types of products for 6+ months, I feel comfortable offering my opinions on them.
Each set came with a different makeup bag, and here's a picture of the bag that came with this set:
If you aren't familiar with Tarte, the company's signature color is purple, so nearly any makeup bag that you get from them will be in this color. This one is a really nice-sized dump bag. I wish it was a little wider and less deep just because I think it would make it easier to find things. *shrugs* It's still a nice bag.
Maracuja creaseless concealer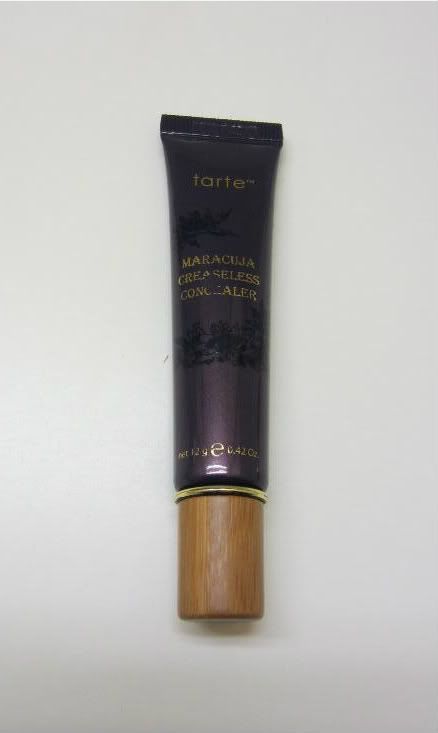 Blended out
This concealer claims to be creaseless, but it doesn't live up to that claim for me. It did okay under my eyes, but I have since stopped using it for that. Now I stick to using it to cover blemishes and other spots on my face. It does a decent job. It is a really thick consistency that spreads smoothly. I will keep using it for a long time to come since I have two tubes of it (I sold the second one to someone else), and it takes very little to cover what I need it to. However, I don't think I will repurchase when I finally run out.
Amazonian clay blush in Dazzled
If you read my 2011 Favorites posts, you'll know that the Tarte Amazonian clay 12-hour blushes made the list. The one that I was sent in this kit, Dazzled, brings my tally for these types of blushes up to nine. I like the texture of them, and they do last all day for me. Another bonus that makes me like them is the packaging. The case is the same color as the product inside, which makes it really easy to find the color I want.
I haven't tried it on my cheeks yet, but I think I'm going to enjoy Dazzled. It's a pretty berry color that isn't too purple. The shimmer in it is a really-fine multicolored sparkle that isn't overkill. It looks like the same shimmer used in Peaceful if you've gotten your hands on that one.
EmphasEYES Amazonian clay waterproof cream eyeshadow in Pink Champagne
These are really nice cream shadows. They don't dry so fast that you can't work with them and blend them out, but when they do set, they don't budge.
Bonus picture of the three cream shadows I got from the Glow Your Way to Gorgeous sets:
Pink Champagne, Shimmering Taupe, Shimmering Moss
I'm excited for this particular color. It's a great, everyday color. I can see getting a lot of use out of it. After taking my swatch pictures, I compared it to a couple of other shadows in my collection. It is really similar in shade to Silk Naturals Nekkid (which is a dupe for MAC's Naked Lunch).
SmolderEYES in Brown
I was hesitant about these when I ordered the first kit because the pencil is so thick. I do have to be careful when applying them because the pencil is nice and soft, and I don't want to end up looking like a raccoon, but I can get a smudged-out liner look that works for daytime wear. Just like the cream shadow, the liner gives you some playtime to smudge it out, but it doesn't smudge once it is set.
Again, I was excited to get the color in this kit. I use brown eye liner more than I use black or grey. The brown of this isn't too warm or too cool. After some more swatching fun, I've decided that it is somewhere between Urban Decay's Whiskey and Demolition liners in terms of tone.
There was a sharpener included with each of the Glow Your Way to Gorgeous sets sent out, which is convenient. Did I need three of them? Nope, but it is nice to know they are there.
Lipsurgence natural lip luster in Obsession
This product type was another one that made my 2011 favorites list. These feel like a balm. The darker and brighter colors definitely have a punch to them, but they aren't nearly as opaque as a lipstick, and they have good lasting power.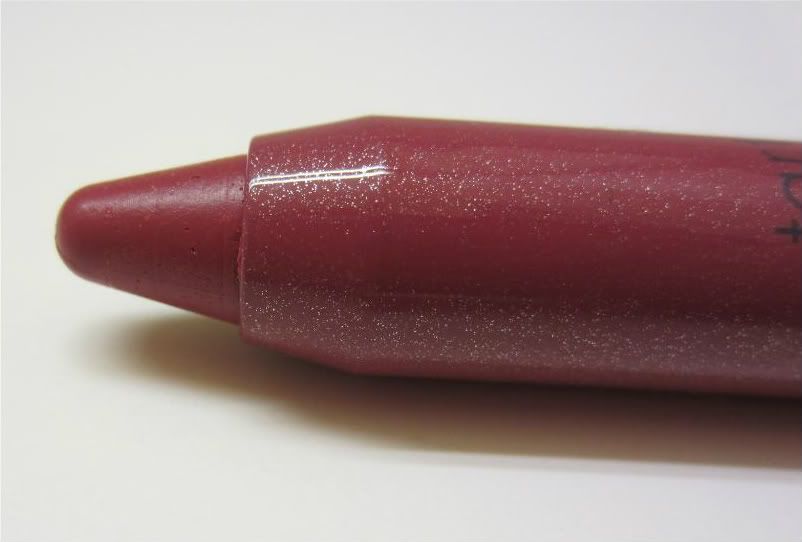 Obsession is a great color for me. It is similar to my own lip color, which is quite pigmented, and it has a subtle shimmer to it. This will be a color that will be easy for me to grab-and-go with.
Lights, Cameras, Lashes mascara
I've mentioned in another post that I just don't like this mascara. I've tried it several times, and I still don't like it. It seems to flake on me quite a bit, and it tends to give me spider-lashes.
That being said, I know a lot of people love this mascara, so it is a nice addition to these types of sets. I understand why they include it all the time.
Powder brush
The bristles on this brush are super soft. It isn't quite as dense as a kabuki brush, but it is stiff enough that I can see it working well for me to buff in a light layer of mineral foundation to set my liquid foundation, which is my regular routine. Obviously, I'll have to wait until I wash it before I give that a try.
Double-ended eye brush
I was really excited when I saw this brush because it reminded me of my beloved eye kabuki jr. brushes. Sadly, the domed end isn't as soft as I was expecting. I'm hoping it doesn't feel prickly when I use it. The angled-liner side will be interesting to experiment with. The angle is much sharper and the width is skinnier than the other angled liner brushes that I have.
Swatches
Obsession, Dazzled, Brown, Pink Champagne
Final Thoughts
All in all, these sets were a great value. Each set cost $59. The blush retails for $25, and the concealer retails for $24, so I got an extra 7 products for $10. I think in terms of the colors sent, this shipment is going to be my favorite.
I'm really glad I ordered these sets, and I'm looking forward to the next set of kits Tarte will be offering on QVC sometime in March. I have no clue what will be in them, but knowing Tarte, it'll be something good.
Do you like Tarte? Will you be signing up for the next set of kits from QVC?