If you haven't heard about it yet, MyGlam is a monthly subscription that sends out 4-5 sample (and sometimes full size) beauty products for $10 a month. This is a relatively new company that has only had three shipments so far.
I signed up in January, so this was my first GlamBag. After seeing the bags from the past couple of months, I was really excited to get this. I stalked the hints that were posted on Facebook and did searches on Google and YouTube to see what the bag was going to contain.
Sadly, I wasn't thrilled with the contents. Here it is:
Since there are already a ton of pictures and YouTube videos with these, I didn't bother taking pictures of the individual products (barring a closer picture of the NYX roll-on shimmer).
Here are my thoughts on the individual products:
The Bag
- Each month a small makeup bag is included in the package. This month's was a pink and black bag with hearts. It's cute. I'll probably end up using it eventually.
NuMe $100 Gift Certificate
- This is clearly supposed to be the "Wow!" product of the month. At first glance, it seems like an awesome deal. When you look more closely at the certificate, it limits the use of the gift certificate to styling tools and hair extensions, all of which, I believe, are over $100. I would end up having to spend $25+ to redeem it. I still thought it was a good deal UNTIL I happened to hop over to Hautelook the weekend before I received my bag. Hautelook was selling NuMe products for prices that were the same, or even a little better, than what they would be if I used my gift certificate on NuMe's website. It no longer feels like a "special deal" for MyGlam subscribers (I refuse to use the term glammies). I signed up for NuMe's email list, so if an awesome sale comes up, I might use it gift certificate, but I'm not chomping on the bit to use it now.
NYX Roll-On Shimmer
- This is a full-sized product, which is nice. Due to the luck of the draw, I received this in purple (aptly named Purple).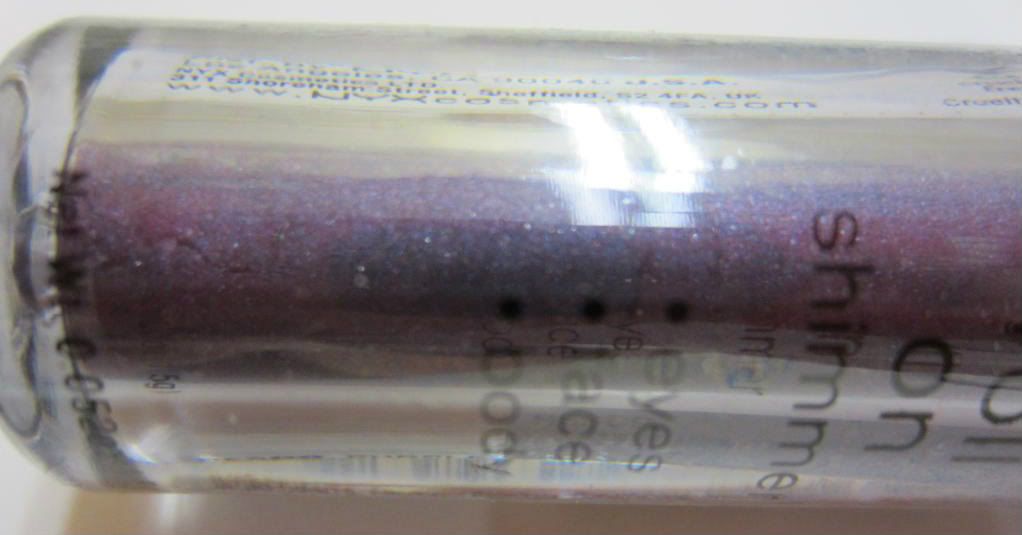 This is not a color I would use, especially in a roll-on form. I have some darker purple shadows, but I primarily use them as liner. Therefore, I'm keeping this sealed because I plan on including it in my first giveaway, which isn't too far away.
X Out Shine Control
- I think this is another full-size product. I have oily skin, so this could be a useful product for me. I used it today for the first time in lieu of primer. It feels like other oil control products I've used, but I'll have to do some more testing to see if I like it. However, it seems like overkill to use this in conjunction with a primer, so I don't see this being something I would repurchase.
Dead Sea Premier Instant Stretching and Revitalizing Mask and Concentrated Facial Serum
- The packets of these are really small (they are the gray ones in the picture). The mask would have to go on in a REALLY thin layer in order to cover my entire face. Although I'm curious to try them, I can't see every buying a full size since both the mask and serum retail for $150 each. No thank you.
Freeman Facial Enzyme Mask
- I love exfoliators, so I might like this sample. It looks like I'll get a couple of uses out of it.
Ghirardelli chocolates
- It's really hard to go wrong with chocolate. :-)
Overall Impressions
- MyGlam's had a lot of bumps in the road as they get this company up and going. There were big problems in January with bags being shipped incorrectly, and a lot of people had to be refunded. I am personally frustrated because I registered with a credit card that expires at the end of March, and I can't change my billing information without cancelling my subscription. That wouldn't be a big deal except that they aren't currently open for new subscriptions. It sounds like this is going to be fixed soon. I'm crossing my fingers that it is before my card actually expires because it sounds like they won't be opening up to new subscriptions for a while as they work out some of the kinks in the system.
Even though I'm not impressed so far, I have hopes for this company still. It seems like they are genuinely trying to address customer concerns. I plan on sticking with it for the time being (assuming they get the credit card issue fixed), but I'm glad I didn't automatically commit to a year-long subscription.
What did you think of February's GlamBag? What are you hoping for this month?